Part 5 of my series. This entry is on the LMGs and sniper rifles. As they're both pretty short, I've combined them into one thread.
Part 5.1: Light Machine Guns (NOTE: all of these are real, presumed to have 100-round magazines, and fully automatic)
Mk 48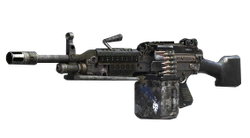 The Mk 48 is manufactured by Fabrique Nationale Manufacturing Inc., a US-based division of FN. Production began in 2003. It was designed to answer USSOCOM's (US Special Operation Command's) request for a new lightweight machine gun to replace the M60E4. As indicated by the name, it was patterned after the Mk 46.
LSAT

This gun is named for the company that produces it: Lightweight Small Arms Technology. It is a developmental light machine gun originating from the US. Its main strength lies in the reduced weight and recoil of the weapon, a definite advantage on the battlefield.
PS: Does anyone think the gun looks like the Wunderwaffe from Zombies in the picture above?
QBB LSW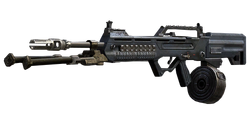 The Chinese QBB LSW has the highest fire rate out of all the LMGs in BO2. It is the light machine gun variant of the QBZ Type 95 assault rifle. China North Industries Corporation (shortened to Norinco) produces the weapon.
HAMR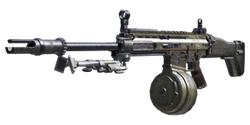 This gun has a unique trait in BO2 - as the player sprays out bullets, the fire rate gradually decreases, therefore making the gun more accurate. The HAMR (Heat Adaptive Modular Rifle) was a variant of FN's SCAR, and was typically an assault rifle (BO2's version is the light machine gun variant). It was entered in the United States Marine Corps' Infantry Automatic Rifle competition in 2008, and made it to the finals. However, it was beat out by the M27 (also a gun featured in BO2).
Part 5.2: Sniper Rifles
Ballista (real)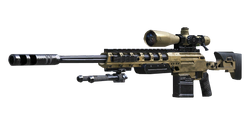 The Ballista is a bolt-action sniper rifle. It is FN Herstal USA's response to USSOCOM's solicitation for a sniper rifle. As well, it is a direct rival of Remington's MSR.
DSR-50 (real)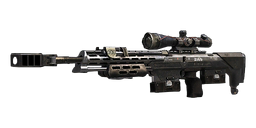 This bolt-action rifle has a 5-round magazine. Manufactured by the German company DSR-Precision GmbH, it is based on the DSR-1 sniper rifle. It fires the powerful .50 caliber round.
SVU-AS (real)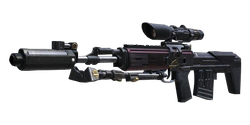 The SVU-AS is a semi-automatic weapon. A creation of Russia's Central Design Research Bureau of Sporting and Hunting Arms, it is a bullpup configuration of the famous SVD Dragunov sniper rifle. Originally the plan was to simply modernize the SVD, but realizations that a completely new weapon configuration would be needed led to the SVU being created.
XPR-50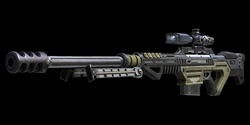 A semi-automatic sniper rifle with 10 rounds. Not much else is known at this time, but I'm guessing it's a futuristic version of the Barrett .50 Cal (let's hope the fire rate isn't as high as the .50 Cal's in MW3 was...)
Yay, half of the series has been completed! Part 6 will be another multiple-category entry, covering shotguns, the assault shield, and equipment. See you there